Shirvan rug "Two Lovers Pomegranate Trees"
CODE: SHRS06
Size (metric): 139x170cm
Size (ft): 4'6"x5'6"
Pile height: 0.3 cm
Ends: knotted bundles
Area: 2.36 m2
Weaving period: three months

Colors: madder red, light madder red, medium blue, navy blue, dark maroon, yellow (pomegranate rinds and weld), variegated green, natural ivory, natural brown.
Dyes: 100% natural dyes: madder, weld (Reseda Luteola), woad, indigo, pomegranate skins, walnut husks, natural brown sheep wool, natural ivory sheep wool - all are eco-friendly and non-toxic
Materials: Handcarded and handspun wool for pile, wool warps (natural ivory and brown twist) and ivory wool wefts (two shots)
Weaver: Zahra
Handwoven in Azerbaijan, dated (1437)

Design: The design of our pomegranate carpet is based on a rare example from the Museum of Azerbaijan Carpets and Applied Art. Pomegranate has a special meaning in Azerbaijan culture, representing fertility and flowing with the energy of life. The ground color of the central field is dyed with pomegranate rinds and weld plant. The red main border shows a so called 'calyx and leaf' border.
Contact us for more information about this rug
---
so called "glass and leaf" (or calyx and leaf) border

a rug with the calyx and leaf border can seen in "Jesus in the House of Marta" (c. 1535), by Vasco Fernandes (better known as Grão Vasco)
---

Veneto-Lombard School
Portrait of a Young Nobleman, circa 1545 shows a Caucasian rug with the so called "calyx and leaf" border

---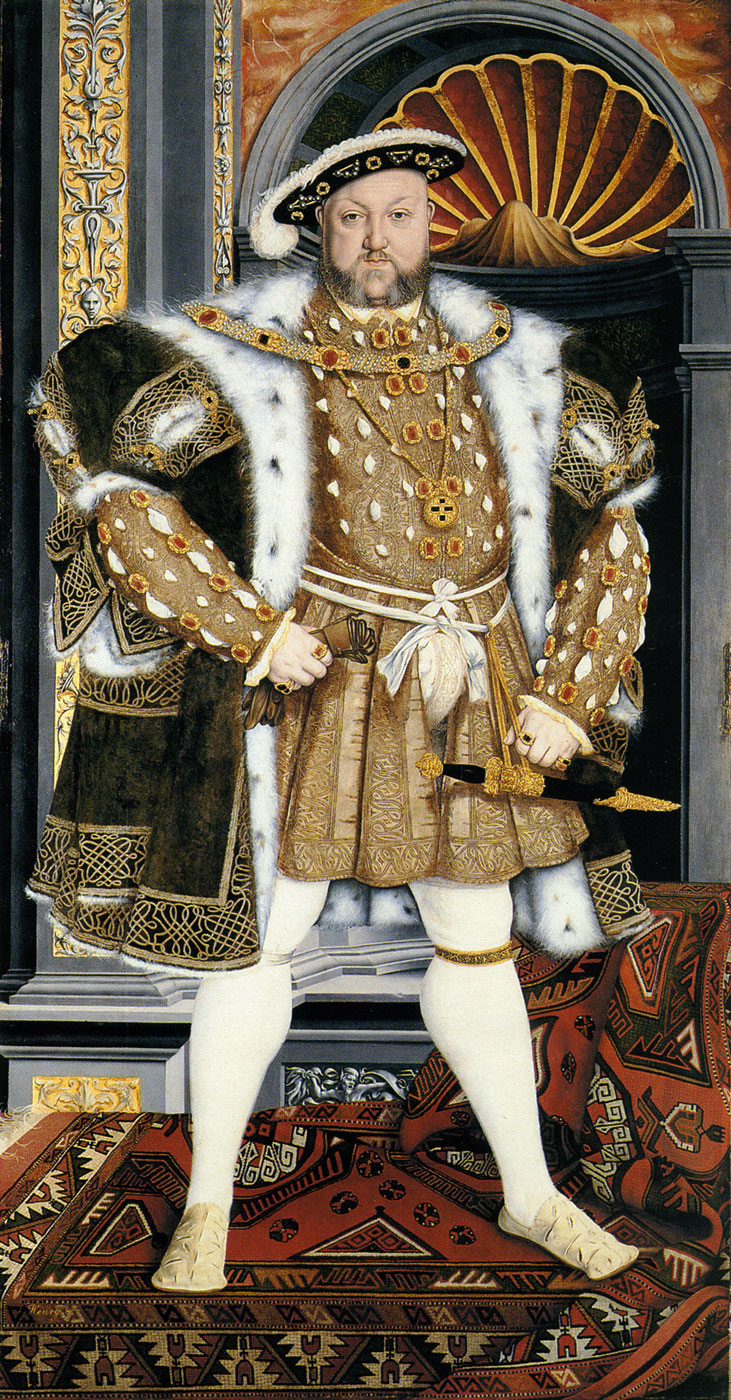 King Henry VIII, 1537-1557?
Unknown, after Holbein.
Petworth House.
Contact us for more information about this rug

For more information about the above rug or to place an order please email vd@azerbaijanrugs.com (Baku, Azerbaijan) or ra@azerbaijanrugs.com (San Francisco Bay Area). We will get back to you within 24 hours or less.