The Marriage of the Virgin
about 1423, Attributed to Gregorio di Cecco di Luca *

The Virgin's marriage to Saint Joseph is not described in the Gospels but appears in the New Testament Apocrypha and the 13th-century book, the 'Golden Legend'. These sources tell how Joseph was chosen to marry the Virgin because of a miraculous sign - the flowering of his rod. Here he holds his rod surmounted by a dove (the symbol of the Holy Ghost) while placing a ring on the Virgin's hand. The Virgin's mother, Saint Anne, stands on the right and on the left two disappointed suitors break their rods.

This painting on panel, and one in the Vatican Museum of the 'Birth of the Virgin', are almost certainly from the same predella, (the lower section of an altarpiece). They may belong to an altarpiece of the 'Virgin and Child with Saints Andrew and Onophrius' in the Pinacoteca, Siena.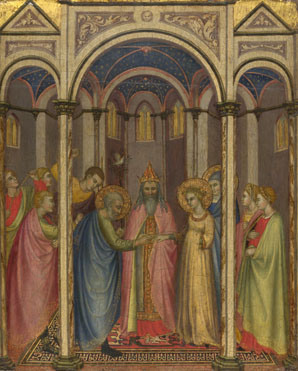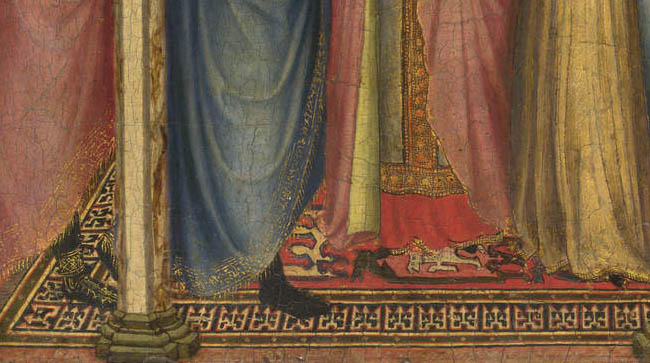 * Gregorio di Cecco di Luca was a painter living in Siena, Italy in the 15th century.
In 1402, he was registered with the Sienese painters' guild. In 1418, he was paid for painting a cover for Sienese public records (known as a Biccherna panel).
Gregorio di Cecco di Luca was greatly influenced by Taddeo di Bartolo. In 1420, he signed an altarpiece with Taddeo in the Marescotti chapel of the church of Sant'Agostino in Siena. He became Taddeo's adoptive son and heir in 1422.
In 1421, Gregorio was part of the commission overseeing the construction of the church and loggia of San Paolo in Siena. His only surviving signed work is the 'Madonna of Humility' (Museo dell'Opera del Duomo, Siena) dated 1423.