Queen Charlotte
1789-90
Oil on canvas, 239 x 147 cm
National Gallery, London

by Sir Thomas Lawrence (b. 1769, Bristol, d. 1830, London)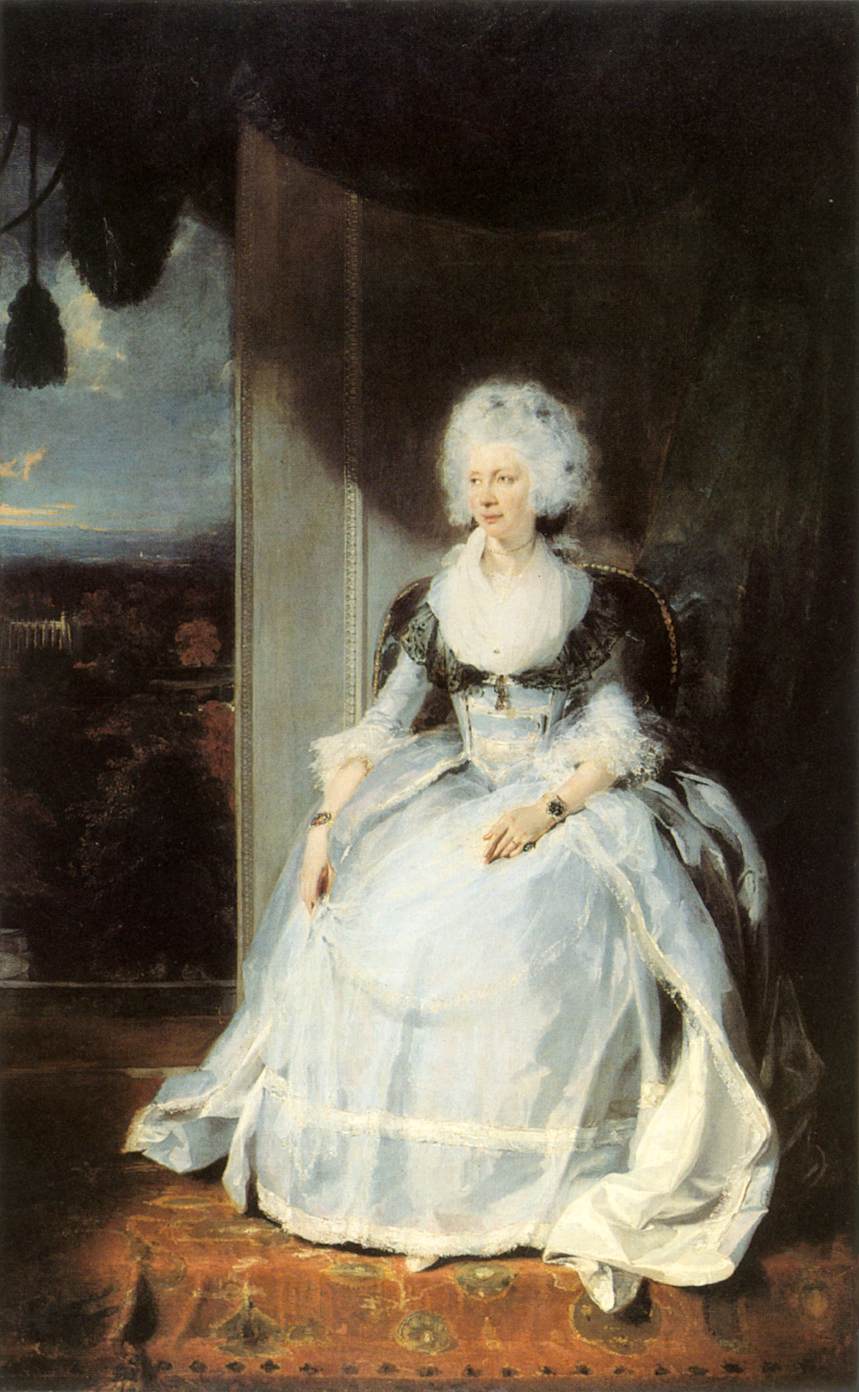 The youngest of five children of somewhat improvident parents, Lawrence was an infant prodigy. At ten he was drawing profile likenesses of the clients of his father's inn at Devizes, and it was assumed early on that his talent for portraiture would support his family. Around 1787 he was brought to London by his father, began to paint in oils and to show at the Royal Academy. His fame as a painter of full-length portraits in oil was sealed at the Academy exhibition of 1790, which included, among a varied group of a dozen pictures by him, this masterly likeness of Queen Charlotte. Praised outside the royal family, the picture was never acquired by them, perhaps because the king was upset by the queen having posed bareheaded after Lawrence disliked the bonnet and hat she had chosen to wear. The queen herself found the 20-year old artist 'rather presuming' when he asked her to talk during the sitting, in an effort to animate her features. Eventually it was the Assistant Keeper of her Wardrobe who completed the sittings for such details as the bracelets bearing a portrait miniature of the king and his cipher.

Lawrence, a draughtsman of extreme precision, worked very hard at the 'appearance of facility'. His dazzling brushwork, inspired by Rubens, Van Dyck, Rembrandt and Titian, enabled him to enjoy painting draperies, unlike his ageing 'rival' Reynolds, who often left them to assistants. But there is more to admire here beside the rustling shimmer of the queen's silks, gauzes and laces. Queen Charlotte had been shocked and saddened by the onset of George III's illness shortly before the portrait was painted. X-rays show that Lawrence modified the careworn expression which he had first observed. Yet even in the final portrait, so formal in conception, so grand in execution, something of the queen's malaise remains touchingly evident.

The landscape background shows a view of Eton College as seen from Windsor Castle. The trees are turning red - as they might well have been in late September when the queen posed for Lawrence, but also so that the colour contrasts of carpet and dress may be echoed in the russet foliage against a blue sky. Although she cannot see the view behind her, the direction of the queen's glance draws our own eyes to these vivid yet melancholy harbingers of winter.