Ref. No: 0407-08
Type: South Azerbaijan, Tabriz
Group: Tabriz
Sub-Group: Lachak-Turunj
Origin Country: South Azerbaijan
General/Historical Information: This carpet belongs to Tabriz type of South Azerbaijan Carpets. The name "Lachak-turunj" comes from a composition, which was created in Tabriz Art School.
The composition "Lachak-turunj" was used to decorate both religious and poetic books at 9th-10th centuries. And later at 13th-15th centuries, it was widely used in carpet making art.
It is necessary to mention that this composition was widely used for the ornaments of decorative arts not only in Tabriz, but also in all the art centers of Middle East and Central Asia.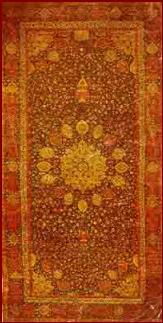 The famous "Sheikh Safi" carpet carries the same "Lachak-Turunj" composition. Today this priceless work of art is preserved in the Victoria and Albert museum in London. This carpet features a large round medallion with sixteen tips radiating out into the field, lamps hanging from either end of the medallion on the long axis, and an elaborate cartouche border. The carpet is important not only for its beauty, but also for its age (woven in 1539) and quality. The carpet was taken by English people from the mosque at Ardabil, where Sheikh Safi al-Din (1252 - 1334), the ancestor of Turkic Safavid dynasty, and Shah Ismail, its founder, are buried.
The dimensions of this carpet are 1152 x 534 cm –61.51m2 (454 x 210 in.) And it contains 517,500 knots per sq. m. (69 knots per 10 cm. across, 75 knots per 10 cm lengthwise, warp - yellow silk, double weft -yellow silk,
Wool Pile)
A second much smaller rug is to be found in the Los Angeles County Museum of Art. Of all the carpets known to us at present, this ranks as the world's greatest. The mosque lamps placed on either side of the medallions have been interpreted to mean that the carpet was intended to be used in a mosque.
(To learn more about Sheikh Safi Carpet http://www.vam.ac.uk/collections/asia/object_stories/ardabil/index.html)


Art Analysis: The composition "Lachak-turunj" consists of two basic elements. These are "turunj" (medallion) and "lachak"s. "Turunj" settles down in the center of the medial field, and "lachak"s are symmetrically placed on its four corners. The area between "turunj" (medallion) and "lachak"s, has no patterns in simple Lachak-turunj carpets, but it is decorated with helical branches, stylized florets and leaves in the carpets with a complex composition.
These "turunj" (medallion) and "lachak"s, which are the main elements of the composition, have various forms.
The form of "Turunj" depends on the size of a carpet: if the length of a carpet is more than its width, then "Turunj" gets oblong. And if the surrounding field of Turunj is extended at width, then turunj has got a round shape. These round medallions can be eight-edged and twelve-edged. In rare cases it could consist of sixteen corners.
"Lachak"s have also various forms. They are placed at the corners of the central field as triangles. Their structure exhibits a great symmetry. Symmetric "lachak"s may have a form of rectangular. And asymmetric "lachak"s are being generally obtusangular. "Turunj" have different kind of names such as Khoncha or medallion, and "lachak"s has got other names like arka, mehrab.
About 60% of Tabriz carpets are made with "Lachak-Turunj" composition. The composition is used in Northern Azerbaijan as well. For example, Karabagh type of "Khanlar" carpet has got the same composition.
Pile: pure wool
Warp & Weft: cotton
Density/Kpsm (knots per square meter): more than 230 000
Colors: 10 = dark blue, light blue, light fig green, dark green, red, orange, peach, maroon, mustard, beige
(NATURALLY DYED)

Size: 205x137
Area: 2.81 m2
Weight: 7,1 kg
Kg/m2: 2.52
AGE: about 50 years old
Condition: good
Technical Analysis: "Lachak-Turunj" can be made only medium or big size.
Density of "Lachak-Turunj" carpets varies from 25x25 to 80x80 per square decimeter. (from 80.000 to 650.000 knots per square meter)
The height of pile: 3-15mm
Comments: Exclusive "Lachak-Turunj" carpets are considered as one of the best of World Carpet Art.
Researched and prepared by Vugar Dadashov