"Pazyryk" rug, inspired by the design of the historical Pazyryk rug found in Altai Mountains
Code: PZR02
Size (m): 178x195cm
Size (ft): 5'10" x 6'4"
Area: 3.47 m2
Density: 170 000 knots per square meter. 135 KPSI
Pile: wool
Warp: wool
Weft: cotton
Hand Woven in Azerbaijan
Dyes: Dyes: 100% natural dyes: madder (Rubia Tinctorum), weld (Reseda Luteola), indigo / Dyer's Woad (Isatis Tinctoria), pomegranate skins, walnut husks - all are eco-friendly and non-toxic
Description: Scythian warrior horsemen, elks grazing in a forest green field, legendary griffins with the head of an eagle and the body of a lion.
Contact us for more information about this rug

The Pazyryk carpet is named for the Siberian valley in which it was found, in 1949, near Russia's borders with Mongolia, Kazakhstan, and China. It is the oldest known knotted carpet, preserved in a Scythe tomb (kurgan) from the 4th -3th century B.C.

Saca-Scythian warriors used to tie their horse's tail up when preparing for battle




The extra figures inside the deer are depicting the inwards and the vertebra of the deer, all parts in real positions with nearly clinical precision:
1. The heart, just above the, front legs (a yellow framed red sphere, black contoured).
2. The aorta (a long red protuberance on the heart).
3. The maw, on the right hand side of the sphere (a large yellow area with a widening upwards on the end).
4. The intestine, in the rear end (a yellow square surrounded by a light blue and a yellow bow).
5. Possibly the urethra, on the upper part of the right hind leg (a yellow line with a black point), better to see on some others deer on the border.
6. The vertebra, directly below the brown back contour (an alternating black-white chain).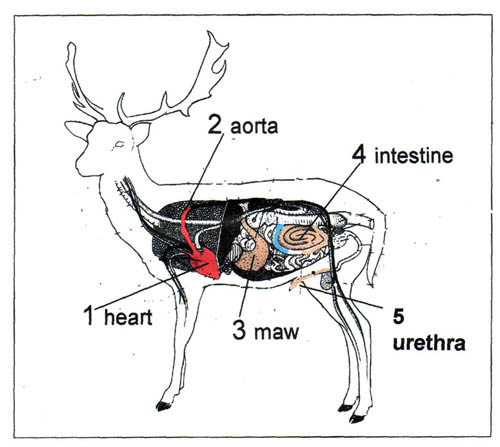 ---
Scythian Golden Artworks

Golden deer from tomb near Filippovka

A Stag of Scythian Gold from the Hungarian National Museum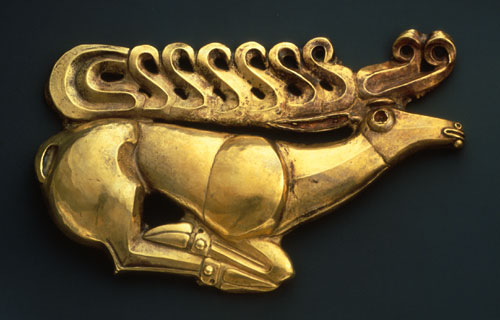 Shield emblem, Scythian, end of the 7th century B.C. Northern Caucasus,
Kostromskaia kurgan Gold; 7 1/2 x 12 1/2 in. (31.7 x 19 cm)
The State Hermitage Museum, Saint Petersburg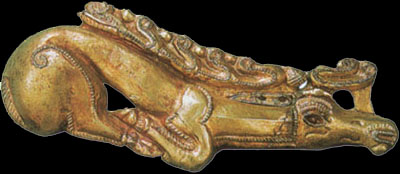 Scythian Golden Deer from 5th century BC, the best known relic from the era of the ancient Hungarians, found during in Tápiószentmárton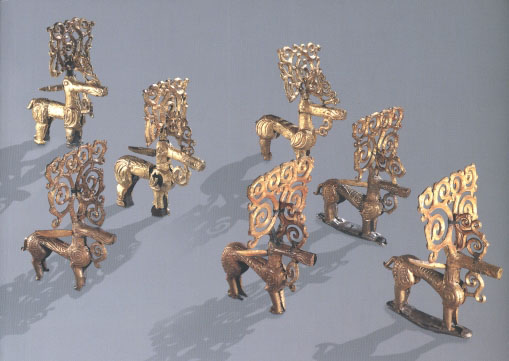 Spectacular works of Scythian Art were excavated between 1986-1990 from burial mounds at Filippovka, Southern Ural
For more information about the above rug or to place an order please email vd@azerbaijanrugs.com (Baku, Azerbaijan) or ra@azerbaijanrugs.com (San Francisco Bay Area). We will get back to you within 24 hours or less.