Star Kazak (Shykhly / Shikli) rug
CODE: KZSK16
Size (metric): 164x200cm
Size (ft): 5'4"x6'6"
Area: 3.28 m2
Density: 110 000 knots per square meter, totally over 360 000 knots
Weaving period: three months

Colors (9): madder red (medium), variegated Persian blue, navy blue, maroon, old purple, lawn green, yellow, natural ivory, natural brown.
Dyes: 100% natural dyes: madder, weld (Reseda Luteola), woad/ndigo, pomegranate skins, walnut husks, natural brown sheep wool, natural ivory sheep wool
Materials: all wool - handcarded and handspun wool for pile, wool warps and madder dyed red wool wefts
Handwoven in Azerbaijan
Weaver's name: Gülkhanim

Design: The ivory field with two madder red hooked panels flanked by shaded arrow head old purple panels enclosed within a combination of irregular lawn green hooked panels and part indigo stellar medallions together forming an open lozenge, dated AH 1437
On the right side of the upper red medallion, three inscriptions are woven:

the first is the word "Oghuz" in the ancient Orkhon-Yenisey Runic Alphabet,
the second inscription is the tamga of the Pecheneg tribe - both tribes stand on the origin of today's Qazakh people of Azerbaijan, who made the famous Star Kazak/Shikhli rugs.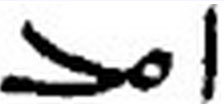 The last inscription shows the Afshar tribal tamga.


The origin of the Star Kazak medallion can be traced back to the early Turkish rugs later named as "Crivelli" and "Holbein" (as early as the 1300s) after the name of the painters, who depicted rugs of this type in their works.

Batári - Crivelli carpet fragment, Iparművészeti Múzeum, Museum of Applied Arts, Budapest, 15th century, Ottoman Turkey

Annunciation with St Emidius, 1486, by Carlo Crivelli
Oil on wood transferred to canvas, 207 x 146,5 cm, National Gallery, London, click here for a larger view of this painting
---

A ram's horn motif (Qoch buynuz)