Perepedil Kuba rug
CODE: KUPER29
Size (metric): 153x185cm
Size (ft): 5'0"x6'0"
Area: 2.83 m2
Density: 170 000 knots per square meter, totally ~500 000 knots
Weaving period: three months

Colors (11): madder red, Cerulean blue, light sky blue, midnight blue, royal yellow, goldenrod, forest green, lawn green, emerald, natural ivory, natural brown.

Dyes: 100% natural dyes: madder, weld (Reseda Luteola), indigo, pomegranate skins, walnut husks, natural brown sheep wool, natural ivory sheep wool - all are eco-friendly and non-toxic

Materials: Handcarded and handspun wool for pile, ivory wool warps and cotton wefts

Handwoven in Azerbaijan

Design: The ivory field scattered with a variety of animals & birds and geometric motifs around alternating ram's horn motifs flanked by hooked dart (or scissors) motifs etc. in a lawn green kufic border.
Contact us for more information about this rug

A rug with a stylized kufic border depicted in this painting of Carlo Crivelli (Annunciation with St Emidius), 1486. Oil on wood transferred to canvas, 207 x 146,5 cm. National Gallery, London

King Henry on a rug with a kufesque border. Hampton Court Palace 1667 by Remigius van Leemput

Portrait of Diego de Guevara, (c. 1515 - 1518), by Michel Sittow (c.1469–1525)

St Jerome in his Study, 1480, Ognissanti, Florence. by Domenico Ghirlandaio

A wood panel with a kufic border from Ibn Tulun mosque, Egypt, XIII century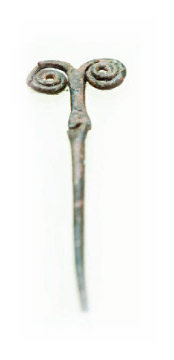 Bronze pin in the form of rams horn, Azerbaijan. IV millennium BC.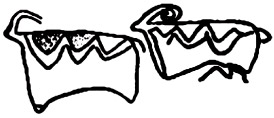 Rams Horn petroglyphs from Gobustan Rocks. III millennium BC.
For more information about the above rug or to place an order please email vd@azerbaijanrugs.com (Baku, Azerbaijan) or ra@azerbaijanrugs.com (San Francisco Bay Area). We will get back to you within 24 hours or less.