tachte (takht) - means "throne" in Turkic and Persian language.

Shirvan Marasali Tachte rug
CODE: SHRMRS02
Size (metric): 128x163cm
Size (ft): 4'2"x5'4"
Area: 2.08 m2
Density: 170 000 knots per square meter, totally 350 000 knots
Weaving period: 3 months
Colors: madder red, Persian blue, midnight blue, light blue, gold yellow, maroon/antique ruby, aqua green, natural ivory, natural brown.
Dyes: 100% natural dyes: madder, weld (Reseda Luteola), indigo, pomegranate skins, walnut husks, natural brown sheep wool, natural ivory sheep wool - all are eco-friendly and non-toxic
Materials: Handcarded and handspun wool for pile, ivory wool warps and cotton wefts
Handwoven in Azerbaijan

Design: inspired by the antique Marasali Tachte rug published at Ian Bennett's Oriental Rugs Volume I plate no: 271 click here to view the picture


ala gapi (gate) element
Contact us for more information about this rug
---
A part of the central field depicts a group of people performing a collective dance, reminiscent of the national dance of Azerbaijan, called Yalli. The carpet weavers of the region calls this element "el ele", which means hand in hand.
A 15 000 years old petroglyph shown above from Gobustan. Gobustanís ancient rock carvings, or petroglyphs have been carefully studied by anthropologists, archeologists, and historians. The research has led to a deeper understanding of the lifestyles, belief systems, and migration routes of the peoples who lived in this region in the distant past. The evidence gathered in Gobustan suggests that our human ancestors existed in this region over many millennia, as early as the Upper Pleistocene period. Gobustan is located 60 kms to the south east of Mazara village
Yalli Dance, Gobustan, 10 m north of "Ana-zaga" cave (Mother cave), Beyukdesh Mountain, upper terrace
---
Tachte (takht) - means "throne" in Turkic and Persian language.
According to Doris Eder (the author of "Orientteppiche Band 1 : KAUKASISCHE TEPPICHE"), the significance of Tachte Shirvan rugs rests in the peculiar large symbol on those rugs, for representing an Avar throne. The Avar were a militarized equestrian Turkic people which established an empire spanning considerable areas of Central and Eastern Europe from the late 6th to the early 9th century.
According S.Azadi, this element is representing an animal throne composition.
Some rug connoisseurs claim that this element represents the Arch of the Law, and dancing figures are the Jewish men performing some rituals.
---
tree of life element
---

so called "glass and leaf" (or calyx and leaf) border
a rug with the calyx and leaf border can seen in "Jesus in the House of Marta" (c. 1535), by Vasco Fernandes (better known as Grão Vasco)
---

Veneto-Lombard School
Portrait of a Young Nobleman, circa 1545 shows a Caucasian rug with the so called "calyx and leaf" border

---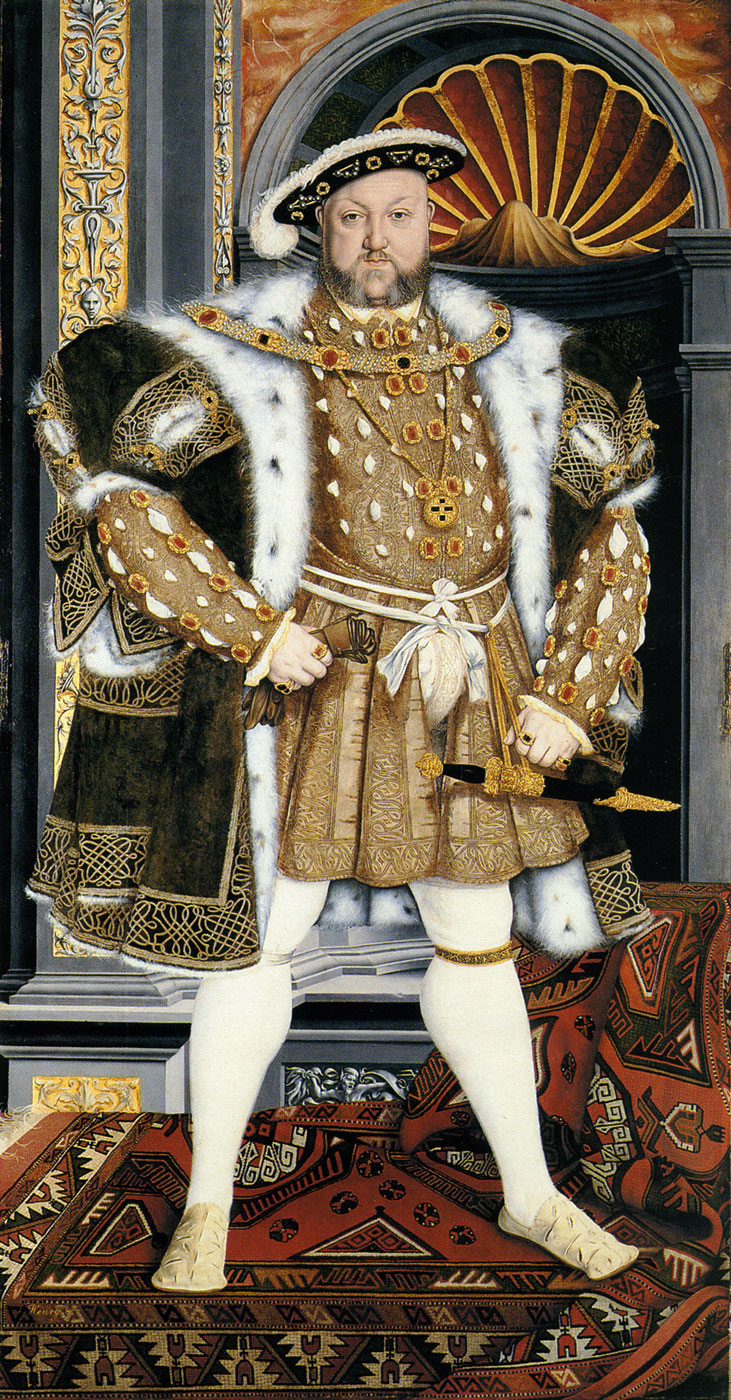 King Henry VIII, 1537-1557?
Unknown, after Holbein.
Petworth House.