Caucasian Kuba Gollu Chichi Rug, Azerbaijan
Code: KUGC05
Size: 181x245cm
Size (ft): 6' x 8'
Area: 4.43 m2
Density: ~900 000 knots totally
Weaving period: woven by three sisters in three months

Dyes: 100% natural dyes: madder, weld (Reseda Luteola), indigo, pomegranate skins, walnut husks, natural brown sheep wool, natural ivory sheep wool - all are eco-friendly and non-toxic

Colors (11): madder red, navy blue, midnight blue, light sky blue, lemon yellow (weld), light yellow (weld), variegated grass green, aubergine, walnut, natural ivory, natural brown.

Materials: Handcarded and handspun wool for pile, wool warps and cotton wefts
Hand knotted (handwoven) in Azerbaijan

Design: The light central field displays three sequences of the cross-beam-flower motif which is called khatai motif (also called St. Andrew's Cross). The kabala nakhysh (running dog) which is the characteristic main border of this type is an inner border surrounded by the wider Kufi (shami) main border and another six stripes which are carnation border (karanfil), narrow wave lines, two star borders (ulduz) and one stripe with arrow-head (mollabashy) motifs. Signed.

Hand Woven in Azerbaijan
Contact us for more information about this rug

The Ruler of Aq-qoyunlu (White Sheep Turkomans) Sultan Yaqub (1478-1490) sitting on a rug with a kufic border. end of the 15th century.

Giyaseddin Baysungur (1397-1433, Tamerlane's grandson, Ulug Bey's brother) sitting in the garden on a rug with a kufic border, 1429, Timurid, Herat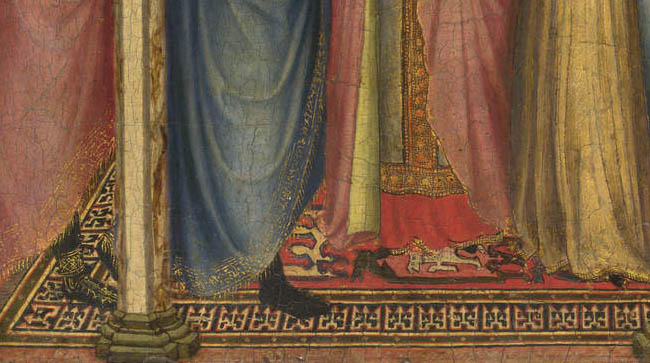 An early animal rug witha kufesque border in "The Marriage of the Virgin", about 1423, Attributed to Gregorio di Cecco di Luca
For more examples see: www.azerbaijanrugs.com/manuscripts/oriental_manuscripts.htm
www.azerbaijanrugs.com/mp/mp_index.htm

The picture represents the actual knot density

Small "S'" - water symbol
\
For more information about the above rug or to place an order please email vd@azerbaijanrugs.com (Baku, Azerbaijan) or ra@azerbaijanrugs.com (San Francisco Bay Area). We will get back to you within 24 hours or less.